The Dizzi Signature range of hammered dulcimers
The Dizzi Signature range of instruments was born in 2010. A collaboration between Tim manning, Luthier from frome and Dizzi who lived in the same town..
With his help we now offer you a special kind of dulcimer!
Our dulcimers have extended higher range on the right hand side of the bass bridge. These special extra high notes give the player more notes than any other 12/11 sized dulcimer.
After a 10 years of playing I decided to start teaching the dulcimer to others. Very soon I realised most people in the UK didnt have a Dulcimer with the same extra notes as mine. Roger frood who made my initial dulcimer has now retired so it became obvious I needed to find a maker who would be happy to make dulcimers with a playable right hand bass bridge so my students could learn my compositions where i uses these extra notes all the time..
With some careful designing, planning and lots of love and care we eventually Launched The Dizzi Signature range of Dulcimers!
each model is perfect in its own way.
The signature is lightweight and Solid body. very easy to move around.
The delux has a full bodied sound and loude body design
The divine has the ful 15/15 range with extra bass notes for a deeper grander sound
Tim makes each Music Magic instrument on an individual basis in a small workshop in Frome, Somerset. There are no computer routers or jigs involved. Timber is a unique product the result of the wind the sun and earth and does not always respond well to being forced to conform exactly to the rigid constraints of mass production. Every part of the instrument has had the individual attention of the designer and maker.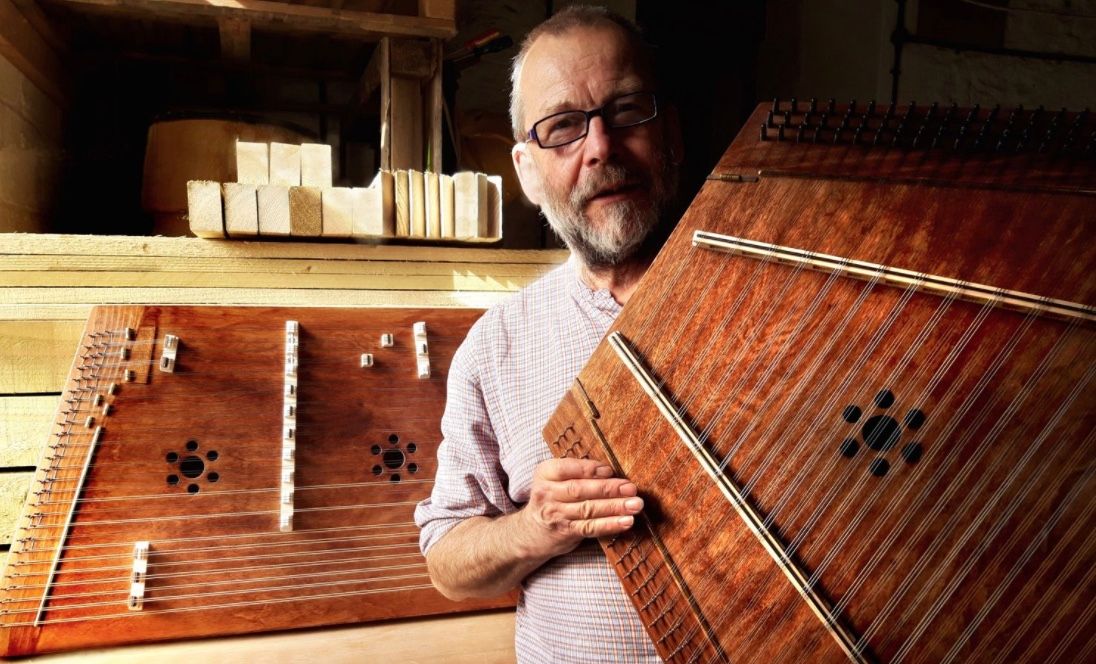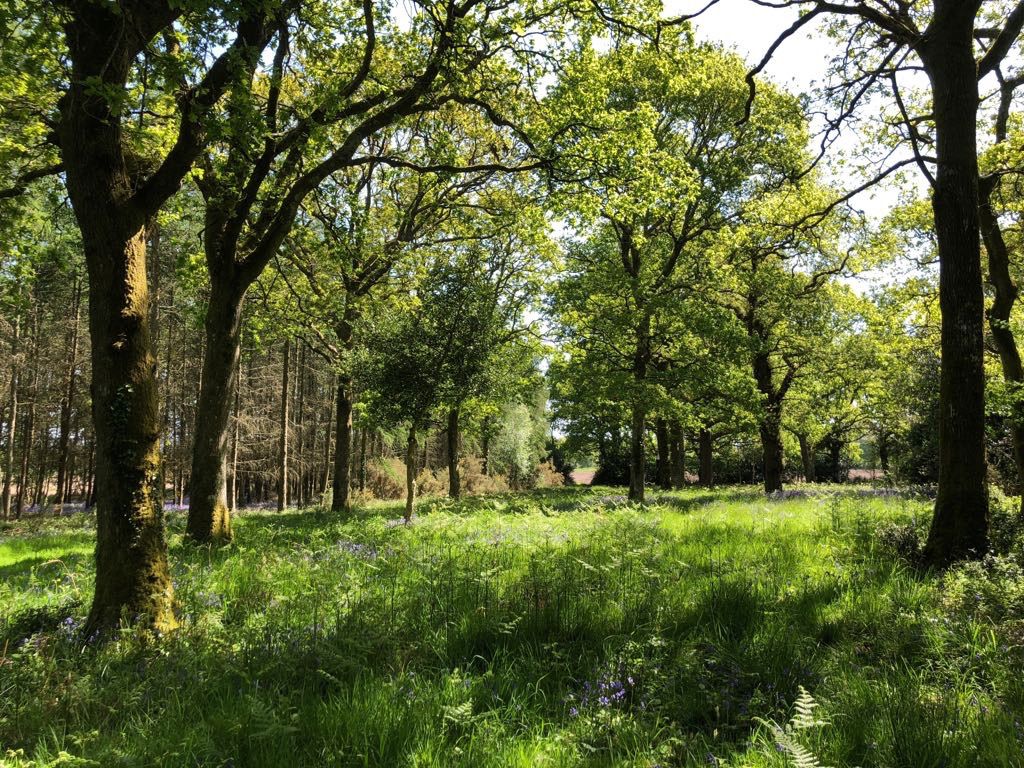 Environmental & sustainable
'Fossil fuels are running out' This truism was first heard in the 70's. Imagine the damage we could have saved to the planet, had we heeded the warning then and made electricity from wind water and sun. Tim is keen to produce quality instruments and also to have as low environmental impact as possible.
The instruments have developed slowly over the period. No radical design changes are made in order to maintain quality and assist consistency of build. The instruments are not principally designed to be quickly factory made. The design aim of Music Magic instrument is to create a modern instrument with attractive classic lines and minimal of fussiness. The most important element though is the soundboard, which has been designed for maximum sympathetic resonance.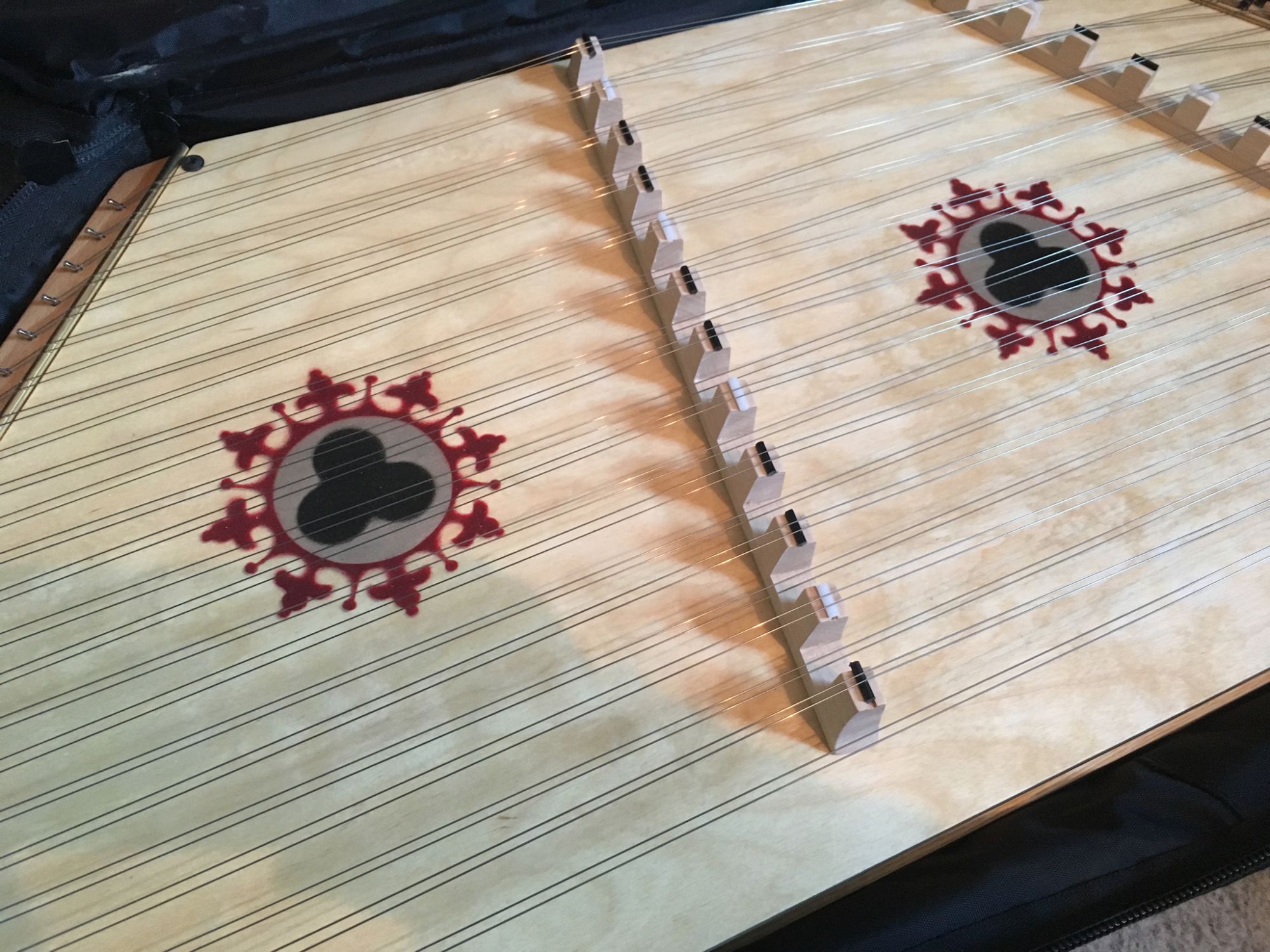 BUY The Dizzi Signature Dulcimer for £499 and get a Online Tuition Course for FREE
Bundle includes Dizzi signature Dulcimer, Set of hammers and a Free Learn Dulcimer online tuiton course. No bag included.
(Choose from any of the individual online course modules available in the Shop (excluding full curriculm option)